Nautical Rigging and Dinghy Rope for Light Sailing Boats
Enhance and Boost Your Performance in Light Sailing with Our Range of
Accessories and Technical Ropes
Get to know our better CLEATS for HALYARDS, SHEETS, and DOWNHAUL SYSTEMS for light sailing
Do you have any questions?
What do we consider
when recommending the purchase of a
NAUTICAL ROPE

for LIGHT SAILING in rope work?
---
Suitable materials for each type of nautical rope: The most recommended materials depending on their function are Polyester, Polyamide or Nylon, Aramid fibers, and Modified Polyethylene, resulting in UHMPE, Dyneema®, and Spectra®.
One use, one diameter: Always use the appropriate diameter in halyards and sheets, taking into account the blocks, pulleys, cleats, vangs, self-tailing winches, etc. used, to increase efficiency in different types of light sailing boats.
Working load by type of sail, wind, and boat: The mainsail, jib, spinnaker, etc. may all be on the same boat, but they are subjected to different forces on their clews.
Anti-slip capacity: The appropriate grip increases grip and provides a softer touch to reduce the possibility of burns while maneuvering with hands and body.
Just enough flexibility: The stretch capacity provided by the core of each nautical rope according to its function. In light sailing, UHMPE and Dyneema® are the best options, as their stretching capacity is almost nil.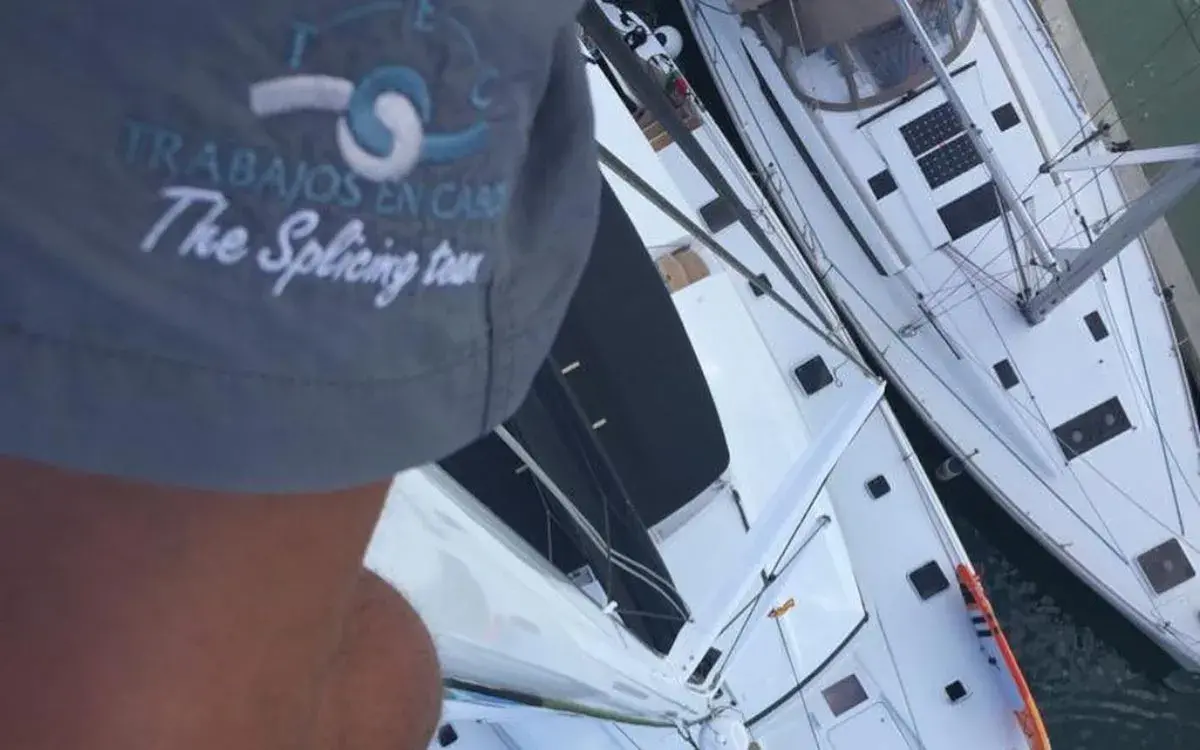 Do you have any questions?
Consultancy service for light sailing
Find out why the best schools and regatta sailors in
light sailing trust us
Project Kick-Off
We understand your needs and identify how our nautical expert in small sailboats can help you solve and overcome your obstacles.
Audit of your BOAT
We perform a technical analysis of your small sailboat and identify the ropes and accessories… whose improvement results in an immediate benefit in navigation and maneuverability. Forget about all the technical aspects.
Study, Material Analysis, and Delivery
We analyze your direct competitors, as well as the weaknesses, strengths, and opportunities for improvement of your boat. We fully adapt to your delivery needs.
Manual Manufacturing
We carry out the manufacturing of all ropes completely by hand at our base port in Mallorca, without using any type of automation, which guarantees an exceptional level of quality in each of the creations.
100% Personalized Delivery
We take care of preparing and delivering your order to the agreed delivery location in a completely personalized way. We make sure you receive it exactly on the agreed deadline.
Results Report
We will send you all the detailed technical specifications of the supplied parts for your boat, along with their corresponding warranty, so that you have all the necessary information about the products you have purchased.
Now that you are FAMILIAR with our TECHNICAL MATERIAL service for small sailboats
Book now a 100% FREE and fully personalized advisory session
During the call, our CAPTAIN will:
Conduct a consultation to understand your needs
Review the model of your small sailing boat
Recommend the appropriate nautical rope and accessories to maximize your boat's performance
Explain the methodology of TRABAJOS EN CABOS in detail
Prepare a personalized quote for our services, to work together closely
This consultation is 100% free and does not involve any obligation or commitment to hire any of our services
Common Questions about Technical Ropes for Dinghy Sailing Solved by T-E-C
What type of ropes are best for small sailboats?
The rigging of a small sailboat is like an athlete's muscles: essential for its performance! Therefore, the ropes used must be lightweight, strong, and durable.
To achieve a good balance between these factors, we recommend the use of high-quality braided ropes, made with materials such as polyester or Dyneema, which provide excellent resistance to water and abrasion, without sacrificing the speed of the boat.
What is the recommended diameter for the rigging of a light sailboat?
The rigging of a light sailboat is like its central nervous system, absolutely crucial for optimal performance!
The recommended diameter of the rigging varies depending on the type and size of the boat, but generally, the use of thinner ropes is suggested for greater ease of handling and a lighter boat weight.
What rope length do I need for my light sailboat?
The length of rope needed for a light sailboat is like the key that opens the doors to exciting navigation.
Generally, halyards, sheets, and mooring lines will need specific lengths to fulfill their respective functions depending on the type of boat.
What are the recommended rope brands for light sailboats?
As a type of rope for light sailboats, there are many options in the market, each with its own advantages and disadvantages.
The most popular brands are Equiplite, Frederiksen, Gleistein, Gottifredimaffioli, Harken, Karver, Marlow, Navtec, Ronstan, Spinlock, Tylaska, and Wichard.
Each brand has a wide variety of ropes available, and the final choice will depend on the specific needs of the boat and the type of use that will be given to the rope.
Most importantly, it is important to choose high-quality ropes that are specifically designed for use in light sailboats and made of durable and saltwater-resistant materials.
¿Cómo puedo asegurarme de que las cuerdas de vela ligera sean resistentes al agua salada?
To ensure that light sailboat ropes are saltwater resistant, it is important to choose high-quality materials that are specifically designed for use in marine environments.
The most commonly used materials in manufacturing are Polyester, Polyamide or Nylon, Aramid, and Modified Polyethylene fibers (UHMPE), Dyneema®, and Spectra®.
In addition to choosing the right material, it is important to keep the ropes clean and dry after each use. Moisture and salt can affect the strength of the ropes and reduce their lifespan. Therefore, it is recommended to rinse the ropes with fresh water after each use and allow them to dry completely before storing.
Another useful tip is to periodically rotate the ropes to prevent them from wearing out or weakening at a single point. It is also important to regularly inspect the ropes for any signs of wear or breakage and replace them if necessary.
By following these tips, you can ensure that light sailboat ropes are saltwater resistant and ready for optimal performance on every marine adventure.
What type of fibers are best for technical lines in light sailing?
There are various types of fibers commonly used for the manufacture of technical ropes in lightweight sailing, each with their own advantages and disadvantages.
In general, high-tech fibers such as Aramid, Polyester, Polyamide or Nylon, Modified Polyethylene (UHMPE), Dyneema® and Spectra® are popular choices due to their high strength and durability.

Aramid is known for its high resistance to abrasion and heat, while Polyester is an economical option that provides good resistance to UV rays.
Polyamide or Nylon is a soft-to-the-touch fiber, but also strong and elastic.
Modified Polyethylene (UHMPE), Dyneema® and Spectra® are very strong and offer an excellent strength-to-weight ratio, making them a popular choice for high-tension lines in lightweight sailing.
What ropes for lightweight sailing vessels should be of high strength?
1-Halyards (for raising and lowering sails)
2-Sheets (for controlling the position of sails)
3-Mooring lines and anchors (for keeping the vessel in place)
4-Technical ropes (for controlling the tension and movement of sails and other systems on the vessel)
5-Guys (for maintaining tension on the boom or mast)
What grip characteristics are important for ropes in lightweight sailing?
In lightweight sailing ropes, grip characteristics are very important. Here are some of the key characteristics to consider:
Slip resistance: ropes must have a solid and consistent grip to prevent slipping during use. Texture: rope texture is important for providing a comfortable and secure grip, even when wet. Flexibility: ropes should be flexible enough to allow for a good grip, but not too stiff to make handling difficult.
Diameter: the diameter of the rope can also affect grip. A rope that is too thin can be difficult to hold onto, while a rope that is too thick can be difficult to handle.
Durability: ropes should be resistant to abrasion and wear, ensuring a long lifespan and consistent grip.
It is important to select ropes with the appropriate characteristics for the specific needs of the vessel.
Do ropes for lightweight sailing need to be buoyant?
Not necessarily, but for certain applications in lightweight sailing, floating ropes can be a good option.
For example, for the safety line or trapeze line, it can be a good idea to use floating ropes to prevent them from sinking in the water and making rescue difficult. However, in other applications such as halyards, sheets, and mooring lines, ropes do not necessarily need to float, and it is more important to choose ropes that are strong, durable, and suitable for the specific function.
Is there any special maintenance that should be done with lightweight sailing ropes?
Keeping your lightweight sailing ropes in good condition is key to ensuring their durability and safety.
Some tips: Rinse them with fresh water after each use, inspect them regularly, avoid exposure to sun and moisture, and lubricate them as needed.
By following these simple tips, your ropes will always be in shape for any challenge you present them with and will last longer.
With these nautical ropes, you will have the peace of mind of knowing that your sailing boat is ready to catch the winds.
Don't settle for generic solutions and choose excellence with our manufacturing service for light sailing ropes!
---
Request a quote
This request is 100% free and does not involve any obligation or commitment to hire the service