Nautical rigging for Optimist
Don't let bad rope ruin your little one's adventures at sea!
Accessories and technical ropes
Get to know our ropes for shrouds, sheets, and cunningham systems for the Optimist boat better
Do you have any questions?
Do you remember the excitement of seeing your child or student sailing an Optimist for the first time? That feeling of pride and happiness as you watch them enjoy the waves and wind, knowing they're learning skills that will stay with them for life. But we also know that as a parent or teacher, the safety of your children or students at sea is a constant concern.
That's why at TEC, we strive to offer you the best nautical rigging for Optimist, so you can be sure they're sailing with professional, high-quality materials. Do you want to know the ropes we make to measure to enhance their experience on the water?
Our guide to nautical ropes

for outfitting the Optimist:
---
If you're looking to outfit an Optimist and need to know what type of rope to use, its diameter and length, here's a guide with recommendations: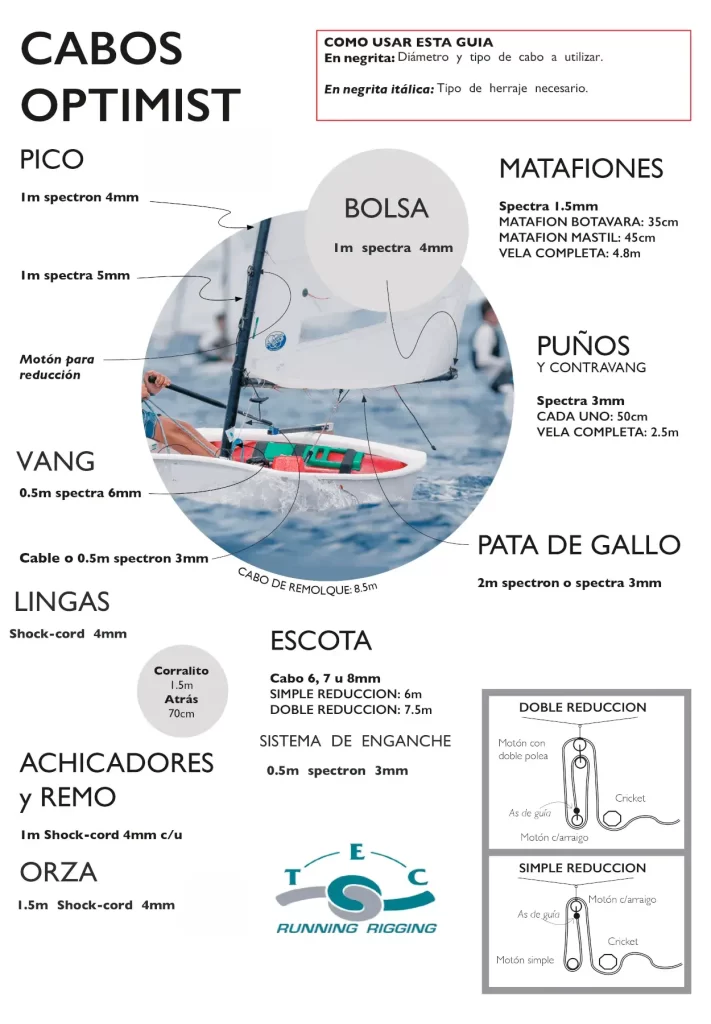 SHROUDS: It is recommended to use 1.5mm diameter Spectra Optimist ropes. You will also need a 35cm rope for the boom and a 45cm rope for the mast. To tie the entire sail, a rope of at least 4.8m in length is needed.
HARNESS LINES AND KICKER: We recommend using a 3mm diameter Spectra rope. Two ropes of 50cm each are needed for the entire 2.5m sail.
SPRIT HALYARD: Equip it with a 3mm diameter Spectron or Spectra rope. A 2m rope is needed for the entire sail.
SHEET: You can choose a rope of 6, 7, or 8mm diameter, depending on the reduction you want to use. For a single reduction, a 6m rope is needed, while for a double reduction, a 7.5m rope is best.
HOOKING SYSTEM: For this, a 0.5m long 3mm diameter Spectron rope is best.
CENTERBOARD: Use a 4mm diameter Shock-cord with a length of 1.5m to secure it.
TRAMP LINES: 4mm diameter rope with a length of 1.5m for the trampoline and a length of 70cm for the rear.
VANG: A 6mm diameter Spectra rope or a 0.5m cable or 3mm diameter Spectron can be used.
SPINNAKER HALYARD: A 4mm diameter Spectron rope with a length of 1m is recommended.
DOWNHAUL: A 5mm diameter Spectra rope with a length of 1m is best.
BAG: 1m long 4mm diameter Spectra bags are a good option.
Indeed, this guide provides recommendations that can be used as a starting point for equipping an Optimist with the appropriate ropes. However, it's worth noting that different materials and rope diameters can be used to improve performance, depending on the sailor's skill level, sailing conditions, and personal preferences. It's always a good idea to consult with experienced sailors or coaches to determine the best type of rope for a particular situation.
Our roadmap
to creating unique nautical

rigging for Optimist
---
Have you ever had to cancel a day out at sea due to a defective rope on your child's or student's Optimist boat? We know how frustrating it can be to have to tell them they won't be able to enjoy their adventure on the water as they hoped. In our Optimist boat rope shop, we make sure you never have to face this situation again.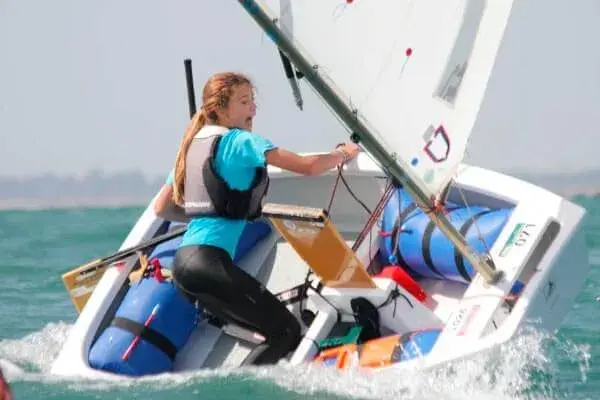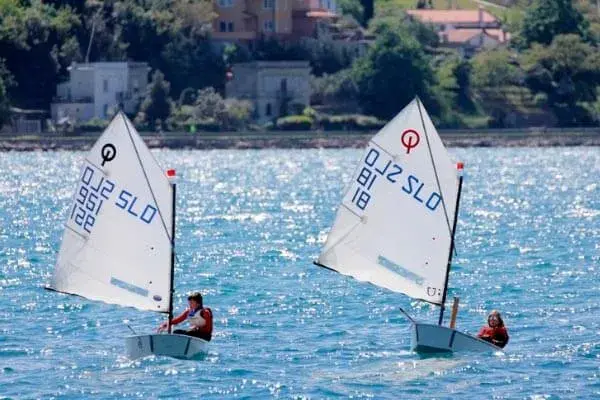 We offer a wide variety of high-quality and durable ropes to ensure that adventures are not interrupted by a bad rope. Trust us to provide you with the best rigging for the Optimist boat and enjoy the peace of mind of knowing that they are sailing safely and without interruptions.
Are you worried that the rope on your child's or student's Optimist boat won't last long enough? We understand the importance of investing in durable materials for their safety and your peace of mind. At our company, we are proud to say that our products are made with the best materials and we ensure they can withstand the wear and tear of sailing, guaranteeing a long lifespan. With our rigging for the Optimist boat, your investment will last longer and your child or student can learn more.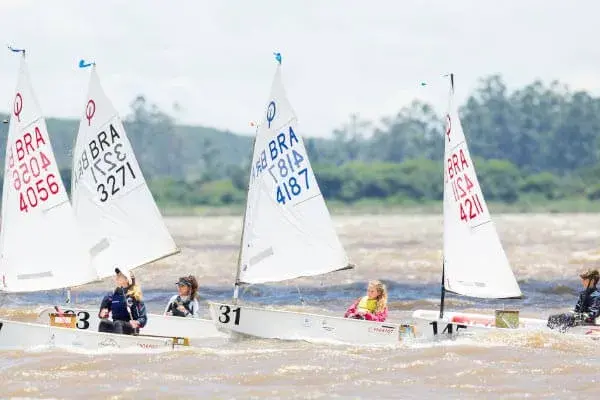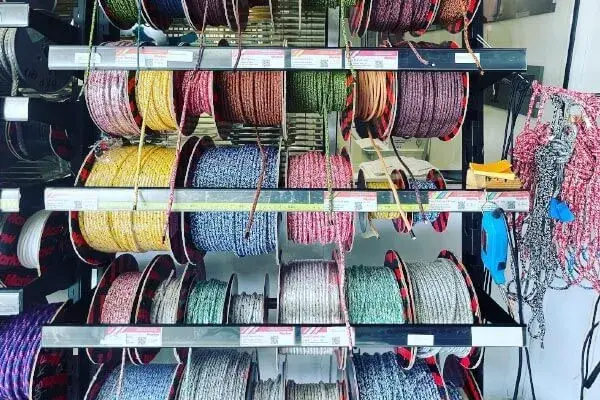 Are you concerned about having the best rope installed on your Optimist, but price is an issue? Don't worry! At TEC, we take your budget seriously and that's why we offer affordable options without compromising on quality. We have a wide range of ropes for Optimist, including sheets, towing ropes, matafiones, lingas, vang, contravang, and more. Don't miss the opportunity to sail with the best rope, contact us now!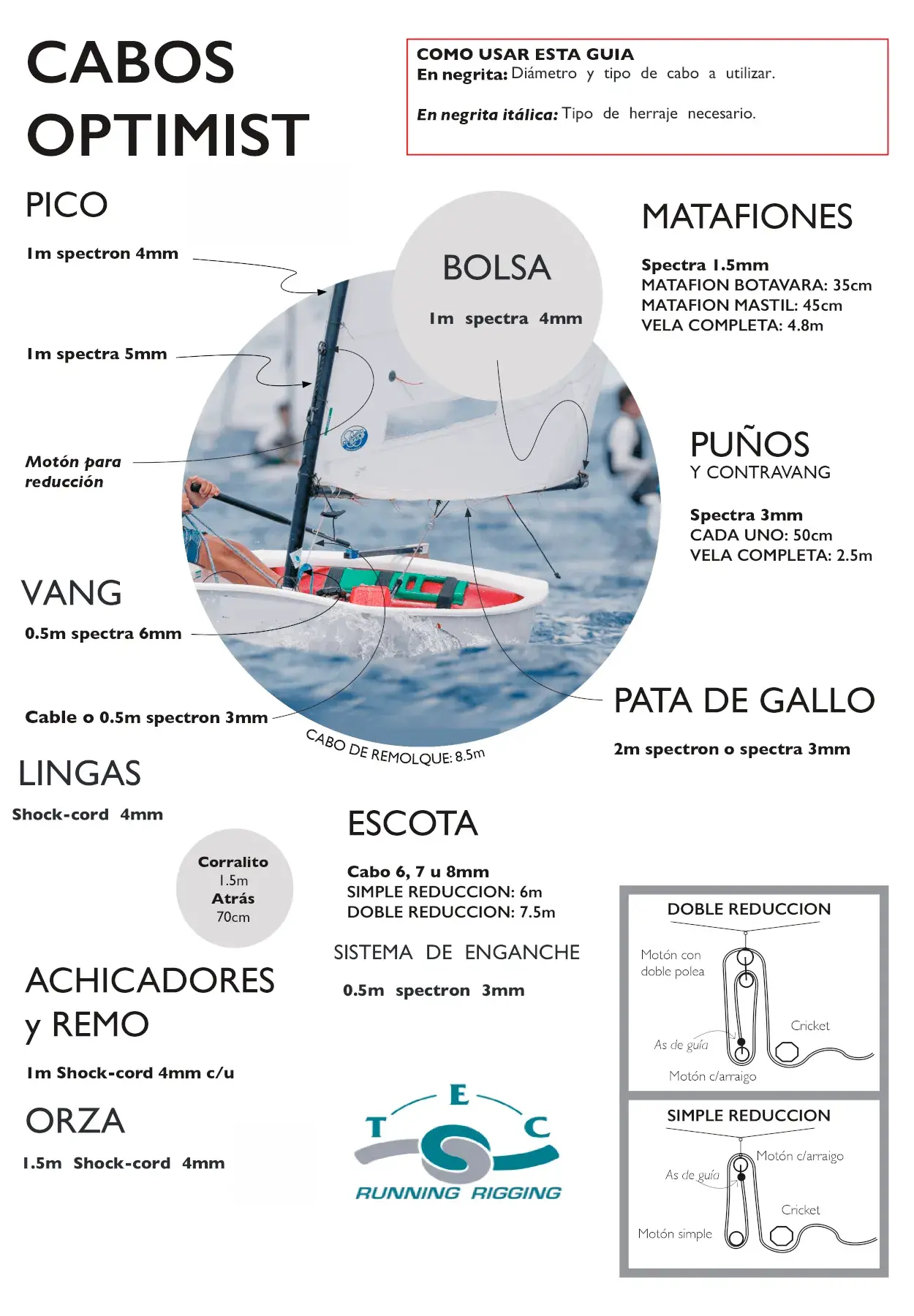 Do you have any questions?
Free
consulting service
Find out why the best sailing schools and
racers trust us.
Our roadmap for
creating technical Ropes

for Optimist in our workshop
Kick-off + Nautical Guarantee
We provide technical consulting to address all your doubts. Additionally, we provide a free estimate and adapt delivery to your needs.
We will send you a detailed report of the materials for your Optimist, along with its corresponding guarantee, so that you can provide your students or children with the best performance on the water.
Custom manufacturing
At TEC, we handcraft all ropes in our base port in Mallorca, ensuring exceptional quality in each creation.
We also prepare and deliver your order to the agreed-upon location for free.
¡Request your quote now and discover how we can help you improve your Optimist's equipment!
This request is 100% free and does not entail any obligation or commitment to hire our services